What are the best frugal female fashion tips?
Being frugal means finding ways to cut costs and spend less in every aspect of your life.
And while spending your extra money on fashionable clothing may not seem like a frugal idea, there are ways to look great while saving money.
If you're ready to start living a more frugal lifestyle but are afraid you'll need to give up your favorite fashions, don't worry!
With these frugal female fashion tips, you'll be able to find great deals on all your fashionable finds.
This post may contain affiliate links, meaning if you make a purchase, I may earn a small commission, at no cost to you. Please read the disclosure for more information.
Frugal Shopping Tips
When you're looking for new clothes to wear while still being frugal, it's a good idea to come up with some creative ways to save money on your favorite fashions.
Luckily, there are a variety of easy ways to stay fashionable without going over budget.
These frugal shopping tips will help you stay on top of the latest trends while sticking to your monthly clothing budget.
1. Start by shopping your closet.
Before you head out to the store to buy something new, always take a look in your closet first.
Take an inventory of what you have on hand. And don't forget to dig deep in the back to find pieces you haven't worn in a while.
Think about different ways you can combine the clothing you have to create a new look or come up with accessories you can add to an existing outfit to dress it up for a new occasion.
2. Leave your credit card at home.
Struggling to stay on budget may be an issue for you if you enjoy shopping for clothing.
And if you give yourself a budgetary fallback, like a credit card, you make it easy for yourself to overspend.
But if you leave your credit cards at home, you'll be forced to stick to your budget because you won't have any other options.
Only bring the amount of money you have to spend in cash and leave all other payment methods at home to ensure you don't spend more than you should when you go clothes shopping.
3. Avoid the impulse to buy.
Do you often get a thrill from making a purchase?
This is a common occurrence for many fashion lovers – especially if they're a fan of buying a new outfit.
That makes sticking to a frugal fashion budget so difficult for seasoned shoppers.
The next time you see a shirt you love or a new purse you can't live without, resist the urge to make the purchase immediately.
Instead, head home and let the idea sit with you overnight.
If you haven't talked yourself out of the purchase, do a price check online to see if you can find the same item for a better price, then make the purchase once you've had time to think it over.
4. Stop shopping for fun.
Window shopping is a fun pastime for many fashion lovers.
But to help avoid spending money on clothing that you don't need, it's a habit you'll need to think about giving up.
Living a frugal lifestyle means finding ways to change your habits and routines to help you save more and live more intentionally.
And one of the best ways to do that is to avoid actions that may force you to stray from your new frugal path.
To help reduce the amount of money you spend on clothing, don't tempt yourself! Stop making the act of shopping a fun activity and find other, more frugal ways, to entertain yourself to avoid overspending on clothes.
5. Check out the outlet stores.
If you're on the hunt for high-end fashion with a small price tag, your best bet is to hit up the outlet stores.
Outlet stores often feature name brand clothing at reduced prices, which means you can still find your favorite labels without the need to pay full price for clothing and accessories.
And many of your favorite brands probably have a store dedicated to their outlet sales.
To save even more on your name brand finds, many of these stores offer sales and clearance prices on off-season selections throughout the year.
Figuring out when your favorite stores mark down their clothing will help you find the best selection at the cheapest prices every time.
6. Online outlet stores.
While checking out your favorite outlet stores is a great way to save some money, you don't need to leave the comfort of your home to go outlet shopping.
Many outlet stores have a wide selection of fashionable options to choose from online, too.
In addition to finding unique choices on the web, many outlet stores also offer sales and clearance sections to help you save even more on name brand purchases.
7. Purchase second-hand clothing and accessories.
While buying new clothing is a good option, sometimes you need to make some sacrifices.
Another simple way to save money on female fashion is to purchase your clothing second hand.
Depending on the styles and brands you like, you'll have a range of options to choose from when looking for secondhand clothing finds.
And the best part about buying used clothing is that no one can tell the difference between new and used clothes once you're wearing them.
Thrift stores. Your clothing doesn't have to be new to be fashionable. Wearing name brand vintage clothing is a great way to spice up your wardrobe without purchasing something directly off the rack.
Yard sales and estate sales. Another great way to find used clothing is to search yard sales and estate sales. Do a quick search of your local newspaper or online outlets, like Craigslist, to see if any sales are taking place near you. To ensure you pick the right sales, check the descriptions for women's clothing, accessories, shoes, and other fashionable items. Many listings also include the sizes available to help you narrow down your search even further.
Consignment shops. Another amazing way to save money on your clothing purchases is to check out consignment shops. You'll find some amazing gently used clothing options without paying retail prices, which means you can enjoy some great deals on fashionable clothing.
ThredUP. Searching the web for name brand clothing is a great way to find frugal fashion options for your wardrobe. Secondhand sites like ThredUP allow you to search for gently used clothing at cheap prices. You can find clothing, shoes, and accessories at up to 90 percent off retail prices.
Poshmark. ThredUP isn't the only online option when it comes to consignment fashion. When looking for high-end clothing at bargain prices, Poshmark is another great online choice. Poshmark is a community of sellers who list their name-brand clothing and accessories on the platform for bargain shoppers to purchase. You can find some great fashion options at great prices on this consignment website.
eBay. Heading to your favorite auction site is another great way to save money on clothing. Check eBay for your favorite brands to save money on expensive clothing by purchasing used clothing through this auction website.
8. Become familiar with sale cycles.
Stores follow a set sales calendar each year, allowing you to figure out when markdowns will happen quickly and easily.
Understanding your favorite store's sales cycles can help you shop sales and clearance racks to find the best deals on new clothing.
You may need to purchase clothing off-season, which means you might be shopping for winter clothing in the summer or vise versa, but you'll be able to save tons of money on your purchases.
9. Purchase neutral pieces.
Although buying flashy colors and pretty patterns may be tempting when it comes to purchasing new clothing, you'll get more use out of your clothes if you stick to neutral colors and patterns.
Solid colors are another great way to incorporate new clothing into your wardrobe and ensure you'll be able to wear your new clothes for years.
10. Shop with a list.
You wouldn't head to the grocery store without a shopping list, so why would it be any different when shopping for clothing?
Before you head to the store to purchase new clothing, make a list of what you're looking for.
Think about the event you're shopping for or the clothing you need for an upcoming season, then write those items down.
Knowing what you're looking for before you start shopping will help keep you from overspending and making impulse purchases.
How to Afford Frugal Fashion
Even with all these shopping tips, you may be wondering how you can afford to add new fashionable clothing to your wardrobe without overspending.
If you're trying to stick to a budget, these simple tips will help you find frugal ways to save money and enjoy the latest fashions.
1) Sell your old clothing.
Anyone who loves dressing in the latest fashions knows how quickly clothing, shoes, and accessories can go out of style.
That means you probably have tons of clothing items that you don't wear any more just sitting in your closet.
Use your clothing collection to your advantage to help you afford new purchases.
Once you're finished wearing an item, sell it and use the money you make to buy something new. You'll help keep from cluttering your closet with new things and give you a chance to buy something new without going over budget.
There are a variety of places you can sell your clothing to help finance new purchases:
Facebook marketplace. List your clothing online to local buyers in your area to make a quick sale and earn some extra money.
Yard sale. Host your own yard sale at home to sell all your clothing at one time. Gather up your items, put price tags on them, and set up a store in your yard so your neighbors can purchase the items you don't want anymore. Here are tips on how to host a successful yard sale.
Online clothing marketplaces. You can also sell your clothing at online outlets, like Poshmark, to earn some extra spending cash. Just create an account, take pictures of your clothing, and list the items for sale for other users to purchase.
Consignment shops. Take your used clothing to a local consignment shop or sell them to an online outlet like ThredUP to make money to purchase new clothing. The store will pay you for your clothing upfront or offer you a cut of the profit when the pieces sell.
eBay. Sell your clothing in an online marketplace like eBay to earn top dollar and set aside your earnings to purchase something new for yourself.
2) Consider renting.
While it can be tempting to purchase a new dress for an upcoming wedding or other formal event, renting out formalwear may be a more cost-effective option.
Check with local dress stores in your area to see if they offer rental options.
Or check out online option like Rent the Runway, which allows you to rent fashionable clothing for a set period of time, then return it when your'e finished wearing it.
3) Shop you friends' closets.
One of the best parts about having friends who enjoy fashion as much as you is that you have a huge selection of clothing to choose from.
Sharing clothing among friends is a great way to expand your wardrobe without spending any money at all.
The next time you need something new to wear, call your friend to see if you can shop their closet instead of going shopping in a store.
4) Check for coupons and discount codes.
Before making any purchase, take the time to research prices, look for coupons, and search for discount codes for online buys.
And don't forget to sign up for cashback providers, like Rakuten.
When you sign up for Rakuten in the U.S., you'll get a welcome bonus of $10 after making your first online purchase of $25 or more!
If you're Canadian, sign up here at Rakuten.ca where the welcome bonus is $5.
While you may not save a ton of money with these methods, it will reduce the overall cost of your purchases. And all those little savings will add up over time.
5) Cut back on other expenses.
If being able to afford fashionable clothing is important to you, finding ways to cut back in other spending categories is an option.
Take a look at your budget to see where you can move money around to allow you to spend a little more on clothes.
Just make sure that those cut-backs are feasible or you may end up going over budget if you aren't careful.
6) Find a way to earn more.
Instead of finding ways to cut back spending in other areas, why not find a way to earn some extra money you can use on clothing purchases?
Looking for another job, starting a side hustle, or asking for a raise are all simple ways to start earning more money, allowing you to spend more on clothing without sacrificing spending in other budget categories.
Related articles on how to make extra money on the side:
Create a Capsule Wardrobe
One of the best ways to save money on clothing and enjoy some frugal female fashion is to create a capsule wardrobe. A capsule wardrobe is a term coined by Susie Faux, who described it as a collection of a few essential items of clothing that never go out of fashion.
With the help of these staple pieces, you can build a timeless wardrobe that will never be out of style.
A capsule wardrobe allows you to create a fashionable wardrobe by purchasing timeless pieces that all work well with each other.
With the help of a handful of neutral pieces, you can build hundreds of outfits that all look amazing. And once you have your capsule wardrobe created, you can add some more on-trend accessories to change up your look without spending a ton of money.
If you're interested in creating a capsule wardrobe, here's my capsule wardrobe checklist including all of the clothing essentials.
How to Care for Your Clothing
When you're shopping on a budget, making new clothing purchases are a big deal.
And that means you should treasure the clothing you have to ensure it lasts forever.
Taking care of your clothing is essential in keeping and maintaining a capsule wardrobe and helping you reduce the amount of money you spend on clothing in the future.
These clothing care tips will help you keep your clothing looking like new, no matter how many times you wear each piece.
1) Treat stains immediately.
To keep stains from ruining your clothing, make sure to treat the stain the second you see it.
Always follow the clothing tag washing instructions.
Here are general instructions I often follow:
Start by cleaning up excess sauce or liquid, then wet the cloth with cold water. Use a small drop of dish detergent to loosen the stain, pressing the stain over and over to lift it out.
Avoid rubbing, which may cause damage to the fabric.
For stubborn stains, place the fabric in water to sit overnight before putting it in the washer. Otherwise, wash the clothing immediately after treating the stain for best results.
2) Make sure the stain is gone.
Before putting your stained clothing in the dryer, always check to make sure the stain is completely gone.
If the clothing is placed in the dryer while stained, the heat may cause the stain to set, which means it will permanently be part of the garment.
If the stain is still visible, retreat and rewash the clothing until the stain is gone.
3) Airdry blouses.
Placing your blouses in the dryer could cause the fibers to break down, which results in fading and shrinkage.
Instead, hang your blouses on a hanger and allow it to airdry. Place the shirt on a hanger and gently pull to help work out wrinkles.
Place them in your closet, leaving space between them to help encourage airflow.
Once the shirts are completely dry, you can push them together to make more room in your closet.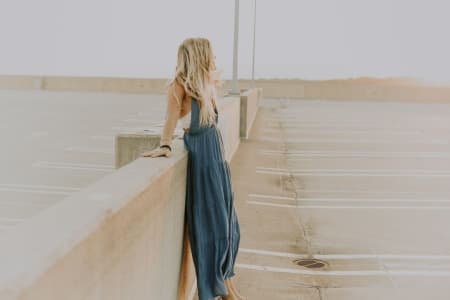 4) Iron with purpose.
Ironing your clothing is the best way to remove wrinkles.
But to ensure you don't damage your clothing, it's important to iron your garments correctly.
Start by ironing a slightly damp shirt. If the shirt is already dry, spray a small amount of water on the cloth before placing the iron on top.
Then, be sure to iron in the correct order. Start with the collar, then move to the cuffs, and finish by ironing the rest of the shirt.
5) Fold your t-shirts.
While most blouses should be hung in your closet, folding your t-shirts helps keep them fluffy.
Fold the sleeves in toward the back of the shirt, then fold it in half once crosswise to prevent creases.
Never hang your t-shirts because it can cause hanger marks and stretches them while they're being stored.
6) Learn to sew.
Most of the time, when a button pops off a pair of pants or a hem comes undone on a blouse, you simply get rid of the garment.
But when you're on a budget, knowing how to repair your clothing is essential.
Learning some basic sewing techniques will allow you to repair small damages so you can keep your clothing for a longer period of time.
7) Don't over-wash.
We often get in the habit of washing our clothing every time we wear them.
But all that washing can actually damage the clothing. Instead try washing your clothing only when it's stained or visibly dirty.
This will prevent the washer and dryer from fading and damaging your clothing, allowing each piece to last for a long time.
Related Ideas for Budgeting:
Enjoyed this post?
It would be great if you could share it and follow me on Pinterest and Facebook.
Thoughts on other frugal female fashion tips?