Review of Podcast Production School
Podcasting seems to be all the rage these days! And for good reason.
It's one of the fastest growing mediums with over 1 million podcasts. 2 years ago, there were only 550,000 podcasts.
A career in podcasting makes sense.
But how do you even get into podcasting?
Sure you can try starting your own podcast and hit the ground running. Naturally, there will be mistakes and growing pains along the way.
Another way is to take a course like Podcast Production School and learn the best practices for podcasting right away. With a course, you'll also be connected to a community of Podcast Producers who you can network with. That kind of support system is a big advantage.
Taking any course is an investment of money and time. You want to choose wisely.
That's why in this post, I'm speaking with a student of Podcast Production School to get the inside scoop on whether it's worth the cost.
But first, if you don't know very much about Podcast Production School…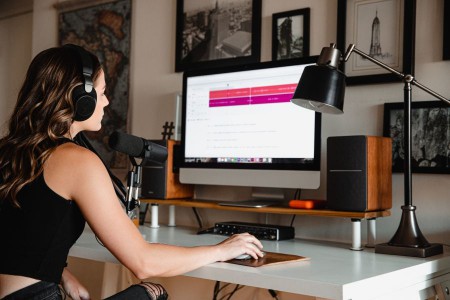 This post may contain affiliate links, meaning if you make a purchase, I may earn a small commission, at no cost to you. Please read the disclosure for more information.
What is Podcast Production School?
Podcast Production School teaches everything you need to know to start, manage and grow a podcast including:
What podcasting services you can offer and how to price and package them
All the technical details of audio editing and production
How to maximize each episode through content repurposing
How to pitch and landing clients and manage client communications
How to get your clients more episode downloads
The course has been created by 3 ladies:
Melanie Scroggins who has been producing podcasts since 2017. She's also a professional Voice Actor and has a passion for audio production. She shares her story as a Podcast Producer here.
Hailey Thomas is the podcaster behind BrainSpace Optimized. Melanie used to assist with her podcast.
Gina Horkey is the creator of the Fully Booked VA course.
If you want to get a taste for what Podcast Production School has to offer, check out these 3 FREE workbooks and checklists on the essential skills and strategies for creating a successful podcast.
Who is Podcast Production School for?
Podcast Production School is designed for people who either want to
Create a podcast production business (offer podcast skills to small business owners) OR
Launch and grow their own podcast
Whether you have your own podcast or are helping someone with their podcast, you're essentially running your own business.
As long as you're ready to learn how to build a business which includes finding and pitching clients, you're the right fit for this course.
What does Podcast Production School cover?
Podcast Production School goes over:
What is Podcasting and the types and parts of a Podcast
What services you can offer as a Podcast Producer
Podcast process, workflow and project management
Technical set-up, audio editing, and episode distribution
Creating episode and show notes
Managing guests
Managing clients (contracts, pricing, packages and onboarding)
Repurposing content
Marketing
There's training covering how to use Audacity, Libsyn, and WordPress.
What's incredibly valuable is that the course includes 20+ templates and checklists including:
A Master Service Agreement template to legally help you onboard clients (covering topics like the scope of your work, your availability etc.)
4 Customizable Pitch Templates and a Tracker
There are also bonuses:
26 Podcast Growth Hacks Training from Joe Fier of Hustle & Flowchart including their podcast journey and both free and paid growth strategies ($500 value)
Live 2 Day Workshop where you'll get 2 audio samples for your portfolio and an audio introduction for your own show or to pitch clients ($1000 value)
You'll get a lifetime access to the course including all updates. When you complete the course, there's certification which you can use in your resume to clients.
There is also an option to get membership to the Podcast Production School community. In this community, you can ask all the questions you have about podcasting, see additional specialized training and access job postings.
As it's an online course, you can complete it at your own pace. Many complete it in around 1 month or less. Of course, it depends on how much time you can spend on the course.
How much does Podcast Production School cost?
Podcast Production School costs $500 (single payment). This includes the digital course and 90 days of access to the Podcast Production School community. If you want to continue your membership in this community, it's $49/month thereafter. This price might have changed since this article was published.
Almost $500 is a high cost!
If you're planning a career in podcasting, this cost can be well worth it. What you get from Podcast Production School is actionable knowledge. You'll eventually get paid from it.
It's the same with blogging. Over the years, I've spent a lot of money on blogging courses. I remember the first time I spent $100 on a blogging product, I thought long and hard about it for weeks. Now I spend hundreds on blogging education every month without batting an eye. The return on my blogging investment has been well worth it.
Podcast Production School Review
I'm excited to share this exclusive interview with Podcast Production School graduate Michelle Wells who is the founder of Creatives Collective Marketing.
In this interview, Michelle shares why she selected Podcast Production School, the most valuable knowledge she gained in the course, and how long it took to make her money back from the course. Her insights and thoughts are invaluable for anyone considering Podcast Production School.
1. How did you get involved with podcasting?
Hi there, my name is Michelle, and for most of my adult life, I've been blessed to be a stay-at-home Mom to 6 kiddos. Five years ago, I wanted to be available to my growing family AND help contribute to our finances—I guess, "I wanted my cake and to eat it too." And so I knew I had to figure out a way to work from home.
I did receive a bachelor's degree in Psychology a LONG time ago, but unfortunately, it didn't supply me with any marketable skills.
As I scoured the internet for options, I came across Gina Horkey's 30 Days or Less to Freelance Writing Success (now called Fully Booked VA). I thought, "I could do this!" And I bought the course. I didn't know it at the time, but it was just the start of building an online content creation business.
Being transparent, it didn't happen overnight, but that first course DID give me the tools and confidence to GET STARTED.
Last year when the Podcast Production School was made available, it seemed like the perfect way to expand my business. I've always LOVED listening to podcasts, and since they are just another way to deliver great content, it was a good fit.
2. Why did you select Podcast Production School?
Based on my success with other courses that Horkey Handbook was involved with, I never considered any other Podcasting course. I knew I would get the tools I needed to start helping podcasters produce compelling content with the Podcast Production School.
I already trusted their brand to deliver on what they offered in the course. I boldly pitched a current client I was creating written content for to start a podcast. He decided to go for it, so I purchased the course.
I took about a month to go through the materials and at the beginning of 2020 I helped my client produce his first podcast. We are currently 20 episodes in and building a consistent following.
3. What's the most valuable knowledge or training you learned with Podcast Production School?
Podcast Production School gives you all the tools to get started. If I had tried to figure things out on my own (without a course), I wouldn't have known what I didn't know. LOL!
The course:
Clearly explains all the elements of a successful podcast
Provides instruction on best practices for helping clients
Points you to the best tools, platforms, and gear
Gives helpful advice on how to package and price your services
Provides resources and templates that make getting started so much easier
These are just a handful of the specifics I found very valuable.
4. Is there anything you felt was missing or could be improved upon in the course to help you be a better Podcast Virtual Assistant?
Learning any industry is all about continuing education. The Podcast Production School is an IDEAL way to get started. But as with any business, you have to keep learning about the newest trends and tools.
For the price point, I was more than satisfied with the course.
5. How long did it take you to attain work in the field and make your money back from the course?
Thanks to the client who agreed to venture into the podcast world with my help, I made up the course's cost in the first month of working with him.
I landed a second client (from a lead in the FB group for Podcast Production School) about eight months later. The timeline was delayed by Covid but worked out fine for me since I also offered other services and wanted to fine-tune my Podcast knowledge.
6. How much money do you make monthly as a Podcast Virtual Assistant?
I currently earn $1000/month from my podcast assisting. Since it is not my only focus, it brings in about a third of my income. I put in about 25-30 hours a month on this service.
7. What is your favorite part about being a Podcast Assistant?
I'm a lifelong learner, and so I enjoy listening to various topics. Creating the show notes and doing basic editing is probably my favorite parts of helping podcasters.
8. What is your biggest challenge in this role?
I want to help clients monetize their podcasts, but this is an area I know very little about. It's on my to-do list 🙂
9. What is a typical day for you when you're working in podcast production and management?
Typically, I can be found sitting in my favorite chair with my faithful mastiff, Riot, by my side as I make edits and create awesome show notes.
Since I have about eight retainer clients that I work with, my tasks also include:
Writing website copy
Creating optimized newsletters
Managing social media accounts
Brand consulting
Designing logos, lead magnets, and infographics
10. What are your top tips for being successful as a Podcast Virtual Assistant?
Be brave, and be patient! You can do anything you set your mind to. And with the growing popularity of Podcasting, there IS work to be found.
Before I started my work-at-home adventure, I could barely turn on a computer, never mind edit out a cough in a podcaster's interview.
This past year while doing our taxes, my husband paid me a great compliment. He said, "Michelle, I'm so proud of you! You created something (a thriving business) out of nothing."
Thanks, Michelle for sharing your insights!
If you're interested in learning more about Podcast Production School:
Interested in other work-from-home opportunities?
Here are additional work at home options that are well-paid:
Other ways to make some money from home
If you only want to earn a little bit of side cash quickly and easily each day, here's a list of legitimate survey companies with user-friendly sites that I've personally tried and liked:
The more companies you join, the more surveys you'll qualify for taking. If you like taking surveys and being able to voice your opinion and know that it'll make a difference with brands and products, taking surveys might be right up your alley.
Related Work at Home Articles:
Enjoyed this post?
It would be great if you could share it and follow me on Pinterest or Facebook.
Thoughts on this Podcast Production School Review?