How to Make Money Selling Stickers on Etsy
How do you successfully sell stickers on Etsy?
I am very interested in selling stickers on Etsy.
I like stickers! They're fun for adults and children. They're easy and inexpensive to make. They're lightweight (so shipping costs are low) and take up minimal storage space.
I already know how to sell digital downloads on Etsy, but I've been wanting to learn how to sell physical products on Etsy too.
Creating a sticker shop seems like a low risk, physical products business.
All that said, it does seem like there are already a lot of sticker shops on Etsy.
Is there still room to make money selling stickers on Etsy? Is selling stickers on Etsy worth it?
How do you even technically get started selling stickers?
What are the best practices for selling stickers on Etsy?
I wanted to talk to someone who's a seasoned sticker seller so I could understand the ins and outs of the sticker business.
I'm excited to share this interview with successful Etsy sticker shop owner Mim Jenkinson!
This post may contain affiliate links, meaning if you make a purchase, I may earn a small commission, at no cost to you. Please read the disclosure for more information.
In this interview, Mim shares how much money she's made selling stickers, her biggest challenge with selling stickers, and the biggest mistake people make when starting a sticker shop.
Her insights are invaluable for anyone considering selling stickers on Etsy or your own website!
She actually has a FREE masterclass where she shares a lot of her secrets!
If you haven't gotten started on Etsy yet, you can get your first 40 listings for FREE here.
1. How did you get involved with making stickers to sell?
Hi! I'm Mim Jenkinson and I LOVE all things about planning, organization and stickers!
I started making stickers for my planner in 2016 and very quickly got hooked. I love the process of designing the stickers and the self-care and therapy that comes with planner decoration and feeling more organized.
At the time, I was undergoing chemo for breast cancer (all is great now) and starting a new hobby gave me the creativity and focus I really needed.
I made the decision to start selling my sticker creations quickly to help pay my medical bills and I opened my Etsy shop within just a few weeks. (I now sell my stickers on Etsy and on my own website.)
Being able to generate money from my hobby was something I never thought possible but 5 years on, it's still going strong and growing month on month!
Soon after I started selling stickers and building up a customer base, I got a lot of questions about how I was making the stickers. Everyone wanted to know what tools I was using, how I was creating the designs, what paper and printer I recommended and more.
I decided to start sharing my knowledge so that I could help answer all of those questions and I released a course teaching others how to make and sell their own stickers too!
2. How much money do you make monthly selling stickers on Etsy? How many hours do you work per week on your stickers business?
My monthly income is made up of my Etsy sales, website sales and revenue from coaching, selling courses, memberships and other digital products. Every year, my income has grown and grown and this year I've now reached multiple six figures.
I work between 20-30 hours per week and I'm so grateful that my business has allowed me to have so much more free time to spend with my two children, my husband and focusing on rebuilding my health physically and mentally.
3. What costs are involved with selling stickers on Etsy?
There are a few costs to outlay in the beginning as well as some ongoing costs, such as the purchase of a cutting machine, printer, sticker paper and ink.
Then there are some accessories and smaller costs to bear in mind like replacement blades, cutting mats, graphics etc.
I've found that many of my customers already have many of these things – perhaps they've had a Silhouette or Cricut cutting machine gathering dust on the shelf and my course has given them the opportunity to learn how to use them the easy way and put them to work!
Bear in mind that none of these tools need to be brand new necessarily and you can probably find a great quality second-hand printer or cutting machine. My printer cost only $60 and is still going strong 5 years on.
There are also fees to sell on Etsy such as a renewable 20c listing fee for every product you list to sell. When you sell a product, there will also be other small transaction fees. I encourage and teach my students to ensure that they are focusing on PROFIT – so they are making more than they are spending.
4. Do you need graphic design skills to create stickers for Etsy?
Definitely not!
Of course, if you have these, that's great. But I had no graphic design skills when I got started and I've taught myself everything I know and now teach all of this in my course.
I teach my students where to find artwork, patterns and designs to use in their sticker designs if they're not able to draw themselves.
What I love about making stickers is how it uncovers a creative flare that we often don't think we have!
5. What is your favorite aspect about selling stickers on Etsy?
I love the difference that my stickers make in other people's lives. I've had hundreds of 5-star reviews complimenting my products and I LOVE it when customers share their images of using my stickers in their planners or around the home.
It makes me so happy that the creativity and self-care I have created for myself is reaching other people all over the world and having the same impact in their lives.
I also love how this opportunity has allowed me to build my own business, working from home.
After my cancer treatment ended, I was able to stay at home and spend so much more time with my young children and I'm so grateful for that. I have the freedom and flexibility to choose when I work, and when I don't.
6. What is your biggest challenge with selling stickers on Etsy?
An ongoing challenge I have is that I have SO many ideas and have to really limit the ones I forge ahead with!
I'm constantly coming up with new ideas for stickers and how they can help people – as I go about my life I'm thinking "I wonder if I could create a sticker for THAT!".
The typical challenges that some people have do not concern me. For example I don't worry about what other shops are doing, I simply stay in my lane.
At this point I know how I can grow my Etsy shop even further because I have strong experience in things like promotion, sales, SEO and more. If any of my other income streams took a dip or ceased altogether, I know my Etsy shop is always an income stream I can grow.
7. What's the biggest mistake people make when starting a sticker shop on Etsy?
There are a few such as not promoting your products enough, not learning how to do SEO and more. However, one of the biggest mistakes is simply doing the same as everyone else.
In my free class on Creating Stickers That Sell, I share my expert tips on how to come up with ideas for stickers that focus on helping people and standing out from the crowd – not blending in!
It's really tempting to create the products that you see other shops selling well – but it's much better to come up with stickers that solve other people's problems and find ideas that people are searching for and that have less competition than the most popular ones.
The Etsy market is competitive, but not saturated for shop owners who are committed to making products that stand out from the crowd, are unique and find new and effective ways to promote their products.
For shop owners who don't take the time to come up with original ideas, find new customers and promote, the chances of success are much lower. I'm always sharing new ideas and trends with my students to inspire them to stand out and be successful and profitable!
8. What is a typical day for you working on your Etsy stickers business?
On Friday afternoons, I plan the following week so that means I can have a weekend free of thinking about anything work related and start the week on Monday knowing exactly what I need to do.
After dropping my kids off at school at 8:30am, I'll have breakfast and usually start work at 9am. In the morning, I like to focus on the tasks that need the most clarity so it might be a specific promotional activity I'm working on or calls with coaching students.
Around lunchtime, I'm often in 'learning mode' so I'll watch business classes, ready blog posts or listen to podcasts while I'm doing the laundry or prepping meals.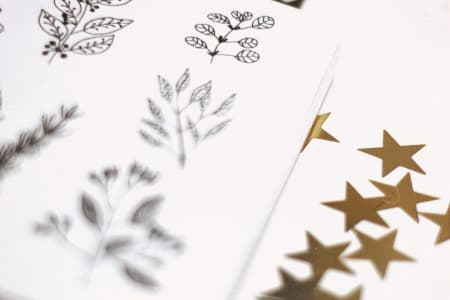 In the afternoon, I like to spend time a few days a week designing new products. I batch my time so that I'm more productive e.g. I'll spend time designing products or creating Etsy graphics or writing listing copy etc.
Each day is very similar because I've built such strong routines now to accomplish each of my tasks quickly – but at the same time, I also have the flexibility to move things around or take time off.
I do not work in the evenings and I very rarely work at weekends. The great thing about selling on Etsy and my own website is that it's all so automated!
Thing is, none of it feels like 'work' to me. I still pinch myself that I can make an income from sharing a hobby that I absolutely love.
9. What are your top 3 tips to get started selling stickers on Etsy successfully?
The best starting point is to take my 60-minute free class on Creating Stickers That Sell.
In this class I share lots of valuable information about how to get started, the tools you need and most importantly, how to come up with product ideas that you're passionate about and people actually want to buy!
Bring a notebook as you'll be taking lots of notes!
Secondly, always have your future customers in mind. Think about how you can come up with ideas for products that truly help them solve a problem or make their life easier, help them save money and more.
Rather than looking at the stickers that are already on Etsy, think about the new solutions you can create.
Finally, commit to making progress. If you decide to take the leap and create stickers to sell on Etsy, set aside time in your planner every week to learn the best methods to do it and stay consistent!
If you join my course, you'll get access to my student community with hundreds of other sticker makers and sellers to encourage and support you.
And otherwise, try to find an accountability partner to bounce ideas off and help you stay focused on building your business.
10. Can you tell us about your course on how to sell stickers on Etsy? What's unique about it?
My course is perfect for anyone who wants the fast and easy way to make beautiful, made-to-measure planner stickers without being overwhelmed by the tech and start a profit-focused Etsy shop.
In my free class, Creating Stickers That Sell, I share a very special opportunity for new stickers makers and sellers to jump into The Etsy Plan and receive bonus templates and a workbook to speed up your success!
The Etsy Plan will give you the most comprehensive way to create unique stickers from scratch that will stand out from the crowd. You'll learn to make them from home in a fast and fun way and then build a profit-focused Etsy shop.
I also share all of my knowledge on how you can attract loyal customers that will be delighted by your products for consistent sales and success.
Selling stickers is a great side hustle idea for those who want to work from home and start an online business that truly helps others!
Thanks, Mim for sharing your insights!
If you're interested in learning more about how to be a sticker seller:
✅ Check out Mim's free class Creating Stickers That Sell.
If you're interested in more articles about selling on Etsy, here are other articles with successful Etsy sellers:
Related Work at Home Articles:
Enjoyed this post?
It would be great if you could share it and follow me on Pinterest or Facebook.
Do you know other best practices on how to create stickers that sell? Comment below.