Tips and Tricks for a Backyard Wedding on a Budget
Best Outdoor Wedding on a Budget Planning Ideas
Planning your wedding can be an overwhelming process – especially if you're on a budget!
But there's no reason to stress when there's a simple way to help you save money on your big day – host a backyard wedding!
With these tips and tricks for a backyard wedding on a budget, you can create an amazing celebration while saving money.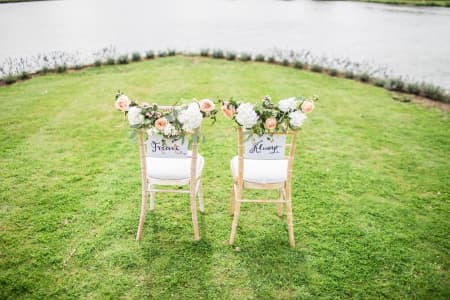 This post may contain affiliate links, meaning if you make a purchase, I may earn a small commission, at no cost to you. Please read the disclosure for more information.
How Can I Have a Cheap Backyard Wedding?
Hosting a backyard wedding is a great way to save money on your celebration.
But like any outdoor event, the costs of hosting an outdoor wedding can add up.
Luckily, there are a few simple things you can do to create an amazing wedding celebration on a budget.
Create a budget.
One of the first things you should do when you start planning your wedding is to create a wedding budget.
This will help you see exactly how much money you'll be working with. It will also help you stay on track when you start putting each element of your wedding together.
To create a budget for your wedding, start by figuring out how much money you have to spend on the whole event.
After that, you can break down the total amount into categories to give you an idea of how much money you'll spend on each piece of the event.
If you want to have a ready-for-you wedding budget, here's my wedding budget spreadsheet.
This spreadsheet is included in my bestselling wedding planner spreadsheet (which has a wedding checklist and guest tracker tool) at an overall reduced price. You can get 10% off with the code SALE10.
When making a wedding budget, here are a few categories to consider adding:
Attire
This category is everything you and your future spouse will wear for the wedding. This includes the dress, tuxedo or suit, undergarments, veil, jewelry, shoes, and accessories.
You can also include other wedding related clothing expenses in this category. For example, outfits, shoes, and accessories for your engagement party, bridal shower, bachelor/bachelorette parties, and rehearsal dinner.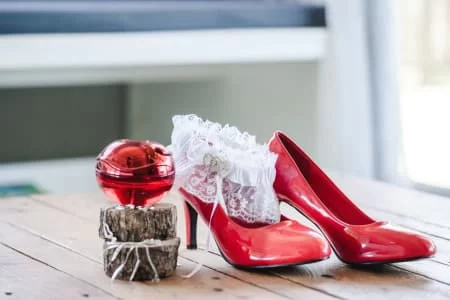 Beauty items
You'll also need to factor in beauty-related expenses, including haircuts and colors, waxing, facials, manicures, pedicures, spray tan, wedding hairstyle, wedding makeup, and the hair and makeup for your wedding party.
Wedding food and drinks
This wide-ranging budget category will include all the food and drink expenses for your event, including costs related to the wedding cake.
You can include the cost of purchasing food and drinks, catering expenses, appetizers, menu items, catering equipment, meals for your vendors, bar expenses, wait staff wages and tips, glassware, and a liquor license fee.
This category could also include extra food expenses, including the cost of your rehearsal dinner and fees incurred during tasting appointments.
Flowers and decorations
Your wedding décor is made up of a variety of different sub-categories in your budget. This includes decorative flower arrangements at the wedding and reception sites, bouquets, boutonnieres, corsages, flower girl flowers, signage, centerpieces, and specialty décor.
This category will also include all your rental items, like tents, chairs, tables, linens, and other large decorations.
Invitations and other paper items
Keep track of all the expenses related to paper products used for your wedding in this category, like invitations, save the date cards, postage, return address labels, programs, escort cards, place cards, menu cards, thank you cards, and favor labels.
Favors and gifts
This category could include a variety of gift expenses, like wedding favors, gifts for the wedding party, ring bearer and flower girl gifts, parents gifts, spouse gifts, or welcome baskets for out of town guests.
Entertainment
All expenses related to entertaining your guests should go in this category, including musicians, DJ, sound system rental, dance floor and lighting, and party games.
Photo and video
Use this category to record expenses related to photos and video of your wedding-related events, including engagement photos, rehearsal dinner photos, wedding day photos, photo booth props, albums, and prints.
Venue
Include all the costs related to your venue in this category, like rental fees, parking fees, and liability insurance.
Ceremony expenses
On top of the location expenses, you may also incur other ceremony expenses, like the cost of the officiant's fee, marriage license, and accessories (like the ring pillow and flower girl basket).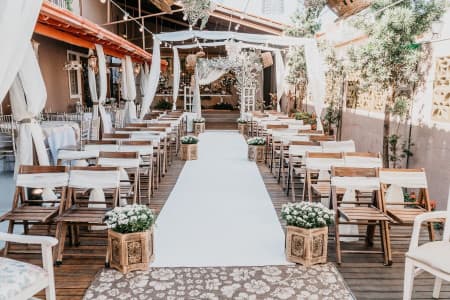 Transportation
If you plan on using transportation to get to and from your venue, include those costs in this category. This could include transportation rental fees, shuttle service for party guests, valet parking, and tips for the drivers.
Create a must-have list.
Before you start spending money on your celebration, take the time to talk with your fiancé about your must-haves.
Knowing the items on your list that are essential to making your big day special will help you find other areas in your budget you could cut to make your dreams come true.
Limit the number of guests.
Guests are one of the biggest expenses at a wedding.
In addition to providing space for each of your guests, you'll also need to feed them and serve them drinks.
That means cutting down the number of guests you'll have at your event is one of the easiest ways to reduce your budget.
Try to DIY.
While it may be easier to hire someone to handle each element of your wedding planning, it's not the most budget friendly option.
To help you save money, find areas of the wedding planning process you and your fiancé can do yourselves.
Are you good at decorating and floral arrangements?
Handle all the decorating on your own.
Do you have a knack for graphic design?
Why not make your own invitations?
Elements of a Backyard Wedding
Planning a backyard wedding requires a little bit of organization.
That's because there are so many different elements to the event.
From putting together your menu to setting up your reception, there's a lot to think about when you're planning an outdoor event!
As you create a plan for your celebration, consider each of these different elements of a backyard wedding:
Venue
Even though you're hosting a backyard wedding, it doesn't mean it has to be in your backyard!
Any outdoor location that has meaning to you can work for a backyard wedding – whether it's in your backyard or your grandparents!
As you're deciding where you'll host your wedding celebration, there are a few questions you can ask yourself to decide if the location is right for you:
What happens if it rains?
Planning for rain is essential to an outdoor event, so it's one of the first things you'll need to consider as you put together your backyard wedding.
Does the space offer an option for cover in the event of inclement weather, like a covered patio?
Or will you need to rent a temporary cover, like a tent, if it rains?
Where will the guests park?
Parking is another big factor to consider for a backyard event.
The number of guests will help you determine how much parking will be needed.
Where will the guests use the bathroom?
Figuring out the bathroom arrangement is a must when hosting an outdoor gathering.
Will guests be able to go inside to use the restroom? Or should you rent portable toilets for your wedding?
Is there space for dancing?
Creating a space for dancing is a great way to get the party started at your reception.
But grass doesn't make a great dance floor because it can be difficult to walk on in dress shoes and heels.
That means you may need to create a dance floor at your outdoor event, which could add to your budget.
How many guests can you fit in the space?
Use the size of your outdoor space to help you determine your guest list.
In addition to thinking about how many seats can fit in the venue for viewing your wedding, you'll also need to consider the amount of space available for seating (and tables) at your reception.
Where will you serve the food?
Food service is the next thing to consider when picking the right backyard venue.
Your menu will help you decide what type of food service set-up is necessary.
Keep in mind that you may need electrical outlets to keep food warm.
Where will the guests eat?
Another factor to consider for your reception is whether you'll have full tables in your backyard.
If space allows, tables are a good option if you plan to serve a full meal.
But if the yard isn't big enough for table seating, smaller bar tables could be another option.
Take the time to ask yourself each of these questions as you're evaluating your backyard wedding venue options.
And make sure to be honest in your answers to these questions to help you get a good idea of what your location has to offer.
Food and Drinks
Once you have an understanding of your space, you can start deciding what and where your guests will eat.
The space available and the amount of money you set aside for food and drink can help you decide what to serve.
As you're planning your wedding menu, consider these questions:
Is there space for table seating?
If the yard is large enough for guests to sit at tables, you have many more menu options available to you.
When space allows for table seating, serving a full meal is a great idea.
But if the space is too small for full tables, consider serving your guests appetizers and finger foods that can be eaten while standing and mingling instead of a sit-down meal.
How much can you spend on food and drinks?
Serving food and drinks to your guests can get expensive.
That means setting a budget for your menu is essential.
Before you can start planning what you'll serve, take the time to figure out your budget and the cost of the foods and drinks you plan to serve.
Will you need to keep the food warm?
Since you'll be serving your guests outdoors, figuring out how to keep your food warm may be a challenge.
Check into the electrical options in your outdoor venue to help you understand your options when it comes to serving your food.
Where will the food be prepared?
Even if you have caterers serving your meal, they will need a place to prep the menu.
Understanding the logistics of serving your food outdoors is essential to creating a delicious and workable menu for your wedding.
Wedding Cake
While food and drinks are an essential element of planning a wedding, the most important food item on your to-do list is probably the wedding cake.
But when you're hosting an outdoor wedding, you may run into a few unique issues that might not be as important to think about with an indoor event.
The most important factor to consider when it comes to your wedding cake is the weather during your event.
If you're hosting your wedding during the summer, heat is a big factor to think about when it comes to serving your wedding cake.
A large cake with lots of icing could melt in the heat, which means it's not the best option during the hot summer months.
As you're planning your wedding menu, think about how your cake will be stored and served during your outdoor event.
Use the venue and the weather during that time of year to help you decide the size of the cake and the method used for decorating it.
Flowers
The beauty of a backyard wedding is that you can use the natural landscape to your advantage.
If you choose a location with flowers planted in the landscape, you'll have a head start in your floral planning.
To help save money on flowers at your backyard wedding, consider using the landscape as inspiration for your other floral arrangements.
Decorating with flowers that are already blooming is a great way to save money and time while adding floral arrangements to your event.
Decorations
In addition to floral arrangements, you'll also need to consider other decorations you'll use in your backyard wedding.
There are a variety of different decorating options you can use throughout your event.
As you're planning, think about incorporating these budget-friendly decorating ideas:
Natural elements, like wood
Seashells
Fabric drapes
Entertainment
Whether you're hosting an outdoor wedding or an indoor celebration, finding entertainment for your guests is a must.
But since you're hosting your event in your backyard, there are a variety of great options for wedding entertainment, like:
Music
One of the most popular ways to entertain wedding guests is with music and a dance floor.
You could splurge on a DJ or live band.
Or save some money with the use of Bluetooth speakers and a playlist on your phone.
Backyard games
The casual nature of a backyard wedding means you can enjoy some fun outdoor games at your event.
Oversized board games, like giant Jenga or Yardzee, are great options for wedding entertainment.
Or set up some other BBQ games for your guests to enjoy, like bean bag toss or horseshoes.
Themed activities
Another fun way to incorporate entertainment in your wedding is to use your theme as a guide.
A beach themed wedding could include some beach-inspired games, for example.
Wedding Attire
Weather should be a factor in most of the decisions you make about your backyard wedding and the wedding party's attire should be no exception.
Before you decide on what you and your wedding party will wear on the big day, you need to think about how the weather will be on your wedding date.
A summer wedding means that your wedding party will need to be comfortable in the heat, so cool and casual wedding attire is a good idea.
But if your wedding will be held during the fall or winter, you may need to think about adding layers to your wedding wear.
But while considering the weather is a must as you plan your wedding fashion, there's no reason to limit yourself!
Find a dress that makes you feel special while also keeping the weather in mind.
Photography
Picking a photographer and videographer for your wedding is a big expense, so it's important to take the time to look at your options closely.
While your outdoor venue may not impact how you choose the right photographer for your event, it is something you should mention to your photographer and videographer.
That's because your photographer will need to plan for using natural light and weather as they put together their camera set-up.
Wedding Favors
Whether you're planning an outdoor wedding or a backyard event, you can't forget to factor favors into your wedding budget.
But that doesn't mean you need to spend a ton of money to thank your guests for coming!
Think about budget-friendly wedding favor ideas, like edible gifts, to help you save money on your favors.
Related Articles For How To Save Money On A Backyard Wedding:
Enjoyed this post?
It would be great if you could share it and follow me on Pinterest and Facebook.
Any other backyard wedding on a budget ideas?