Capsule Wardrobe Planner: How to Build a Minimalist Wardrobe
Capsule Wardrobe Plan
I have not bought clothes in years among other things I stopped buying to save money every day.
How?
I have a capsule wardrobe.
This capsule wardrobe has not only saved me money on clothes. It's helped me declutter and organize my messy closet! I have saved so much time getting ready in the morning.
I'm excited to share my capsule wardrobe planner so you can start saving time and money on clothes too!
In this post, we'll cover:
What is a capsule wardrobe?
How many items should be in a capsule wardrobe?
Why have a capsule wardrobe?
What's in MY capsule wardrobe?
How do you build a capsule wardrobe?
This post may contain affiliate links, meaning if you make a purchase, I may earn a small commission, at no cost to you. Please read the disclosure for more information.
What is a capsule wardrobe?
A capsule wardrobe is often when:
You have around 1-5 of each type of item in your closet.
Every piece is one you LOVE and makes you feel happy and confident!
The pieces don't go out of style.
Ideally each piece goes well together so you can mix and match to create a lot of combinations.
BUT…
You don't have to limit yourself to these rules. Adapt this concept to your lifestyle and preferences. Don't feel like you can't have those few beloved pieces that don't go with everything in your capsule wardrobe.
How many items should be in a capsule wardrobe?
Some people have 37 items. Others have 50. It's really up to you how many items you need to have. Of course, you want to keep it as small a number as possible.
I have around 50 pieces in my capsule wardrobe for all four seasons.
Why have a capsule wardrobe?
There are a lot of great reasons like you
Save money

: You have everything you need in your capsule wardrobe. You don't need to shop for any more clothing.
Save time: Not only do you save time by not having to shop for clothes, having a minimalist wardrobe makes getting ready in the morning efficient because you have less choices to consider.
Have less stress: Getting ready in the morning can be stressful because you have limited time. Capsule wardrobes help you make good outfit decisions quickly.
Clean up your closet: Now you know for sure everything in your closet fits and looks good on you!
What's in MY capsule wardrobe?
What's my capsule wardrobe formula?
Since examples can help clear things up, here's what's in my capsule wardrobe.
You'll see it's mostly plain clothing. Lots of neutral colors. No big words or phrases on any items.
It's a long list, but it'll hopefully give you some ideas before we get to the meatier next section discussing how you actually build a capsule wardrobe.
Note: I didn't include pajamas, socks, underwear, or swim suits on this list, but it goes without saying that I have these as well.
Tops:
Tank Tops: Having different color tank tops are a must for my capsule wardrobe. You can put them underneath clothing that's too sheer and use them as undershirts. These spaghetti strap tank tops are a thicker material and also have built in bras – they look flattering just on their own.
T-shirts: Plain t-shirts are super multi-functional. They're great if you're a minimalist. It also works well if you want to pair it with another piece with a pop of color or pattern. I have these plain t-shirts in multiple colors.
Cardigans: Here are other cardigan essentials in my capsule wardrobe. This casual, chunky cardigan looks great with skinny jeans or leggings. Long cardigans can dress up any outfit. They look particularly great with dresses.
Bottoms:
Skinny jeans: Dark skinny jeans are a great casual look. I frequently wear it with my Adidas sneakers. You can also dress it up with heels. They don't get ruined when it rains like boot cut jeans often do! With the high waist, you can control the muffin top!
Leggings: Leggings are another versatile piece you can dress down or up with. Another favorite in my capsule wardrobe!
Jean shorts: If you're on the hunt for a pair of jeans that are in between "short shorts" and bermuda shorts, these are it! These are my "mom jean" shorts.
Dresses
Comfortable Dress: This stylish dress is perfect for a summer day when you're going for a walk or shopping! The pockets are the best part!
Formal dresses: Whether you are attending a cocktail party or going for a night out, a little black dress is a classic, signature piece that always impresses. It's nice to mix it up with this lace dress. It's perfect for dates and formal occasions.
Outerwear
Black Blazer: A nice way to dress up any outfit. I use this at the office a lot.
Light jackets: These are Spring, Fall, and Summer (when it gets cooler in the evening) staple pieces! What I love about this Levis jacket is that almost every part can be adjusted to fit your body. If you're looking for a more formal look, this trench coat looks great! It's definitely not warm enough for the winter time.
Winter parka: I live in Canada where the winters are freezing. A winter parka is a must have for my climate, but it might not be for your's.
Shoes
Hunter Rain Boots: I get so many compliments on my white Hunter boots. I guess when you think of Hunter boots, you immediately picture the black or other colored versions. These white boots are sharp!
Formal pumps: If you work in an office environment with a dress code, black pumps will be a staple in your capsule wardrobe. It's also fitting for any formal occasion.
Sandals: Sandals are a must have in your capsule wardrobe for the summer. These Crocs have a classic look with a sporty fit.
Sneakers: I wear these Adidas sneakers everywhere! They're comfortable and classic!
Accessories:
Infinity Scarves: What I love about infinity scarves are that they not only keep you warm – they can be styled multiple ways. I have so many infinity scarves! There are many stylish, chunky infinity scarves available nowadays. This one even has a pocket, which is perfect for traveling or lightening your purse load!
Cashmere Toque: Cashmere is luxurious! It can make a cold winter day less harsh. A cashmere beanie will not go out of style anytime soon.
Baseball cap: Baseball caps are not just useful to block the sun for sports and hiking. You can use it for bad hair days when you're at any outdoors event. I personally love having both a black baseball cap and white baseball cap to mix and match with outfits.
Fanny pack or purse: I never thought I would be a fanny pack girl, but this has been a game changer for my capsule wardrobe. As a parent with 2 kids, I need to be hands-free and I don't want to have to worry about things falling out of my purse or back aches from a heavy purse. This fanny pack has separate compartments for my keys, hand sanitizer, phone and cards. I put in another small bag within it for other small loose items like hair elastics and receipts.
If you're looking for a recap of these items, here's a printable of this Capsule Wardrobe Checklist. There are pre-filled and blank versions, and it's editable in PDF.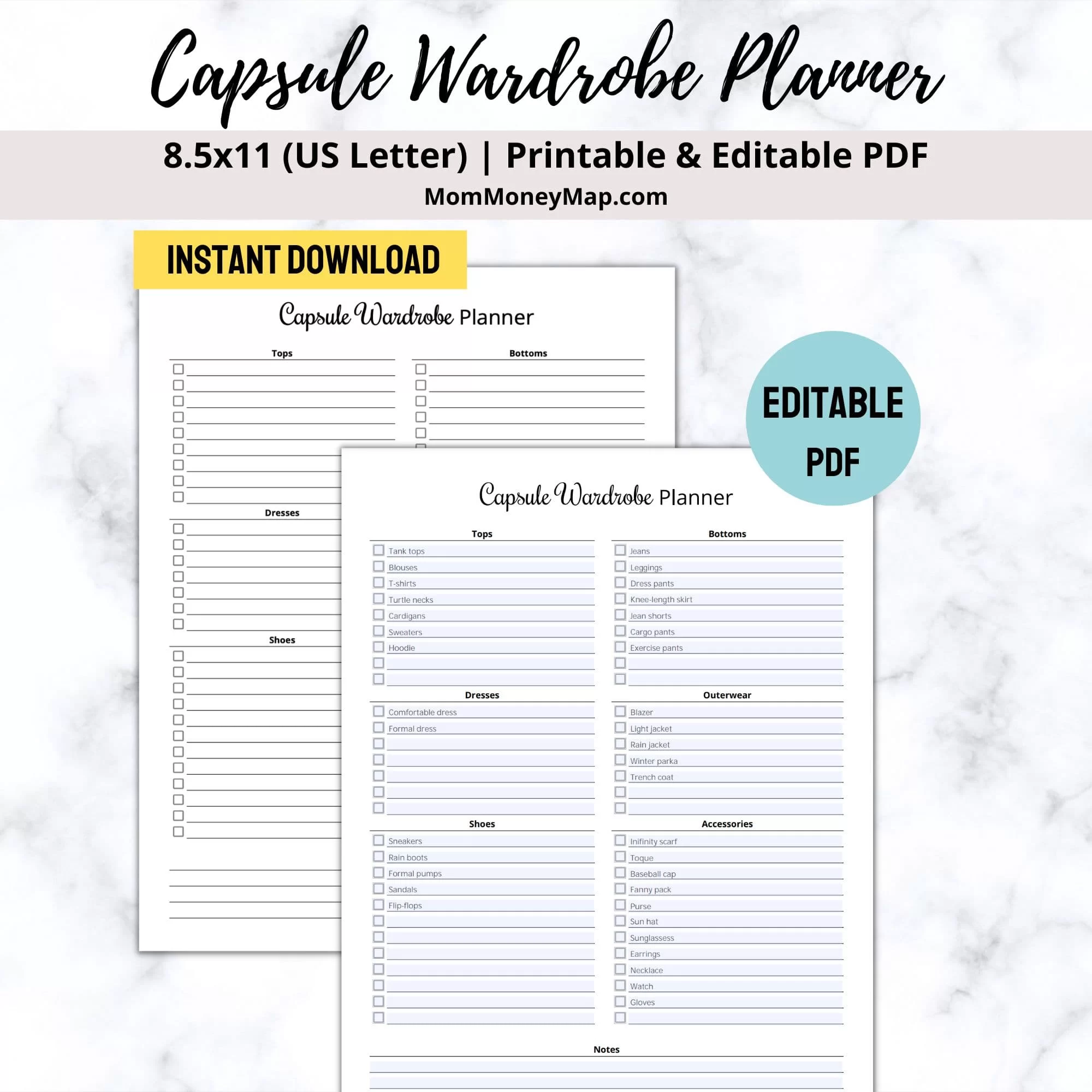 How do you build a capsule wardrobe?
Building a capsule wardrobe often means paring down a wardrobe.
I'm going to be honest with you. This is not an easy or quick process! At least it wasn't for me. But it's worth it!
It'll save you so much time. If you stay roughly the same size each year, you'll possibly never have to buy new clothes again! I haven't for YEARS!
1) Declutter
The first thing you need to do is declutter.
Take out clothes that haven't been worn in years because they
Don't look good on: We all have those clothes that look like art on the hanger, but for some reason, they just don't hang well, the cut or length doesn't work, the color doesn't go with your skin tone etc. Maybe you end up trying it on, but ultimately, you put it aside to wear your best option.
Don't fit well: This includes the clothes that are too small that you might fit in one day. I used to have lots of these "goal clothes", but they ended up being a source of negativity in my life. When I got rid of them, I felt relieved. It was great to finally embrace my new me.
Are not comfortable e.g. itchy sweaters
Not in good condition anymore e.g. sweaters with pilling or rips
Have sentimental value e.g. wedding clothes, funny t-shirts you thought you'd wear as pajamas
Have a negative association
Are your "dirty clothes" that you use for painting or that you plan on repurposing as rags etc.
You don't have to throw these things away. The idea is to just take them out of your closet. They're taking up valuable space in there.
Once they're out, you can move these into storage, donate or sell them.
Another decluttering method I recommend is Marie Kondo's The Life-Changing Magic of Tidying Up. It's a New York Times best-selling book. Marie Kondo was named one of TIME Magazine's 100 most influential people!
Her book focuses on only keeping possessions that "spark joy". It sounds hokey, but it works!
One nugget in the book is her clothes organizing method of folding clothes so they STAND UP in a drawer and are not on top of each other.
This allows you to see all of your clothes when you open the drawer. It's so much more productive this way!
2) Think about the different occasions of the year
Think about the categories of outfits you need throughout the year like:
Comfortable clothing to lounge in around the house
Work clothing
Casual clothing when you're running errands or meeting friends for lunch
A wedding or formal event
Hiking or camping clothes
Work out clothes
Think through the different types of tops, bottoms, dresses, outerwear, accessories and shoes you'll need.
Make an initial list for your capsule wardrobe. Here's an example:
Tops:
T-shirt
Tank top
Blouse
Knit Sweater
Cardigan
Hoodie
etc.
Think about your personal style. If you don't like t-shirts, don't include them in the list or swap it for another type of top. Not a skirt girl? Add a different pair of shorts to the list.
This list is just a broad overview of what you could possibly need in a year. It's also a draft – you don't have to follow it to a tee.
It's just there to provide guidance when you start looking through your closet and matching what you need with what you have.
3) Shop your closet first
Now that you have a cleaner closet, select some pieces you love and wear frequently and match them to the list you have. Here are some guidelines to help you narrow down your selection:
1. Have you worn this item at least a few times in the last year?
Think about what you constantly grab for in your closet. What's in your laundry basket. If you haven't worn this item within the last year, you probably have something else in your closet that's a substitute that you like better.
2. Is this a neutral color?
This is a personal preference, but I like to stick to neutrals (e.g. black, white, beige, navy), but still have some accent pieces.
Neutrals go well together and with non-neutral colors so you get maximum use. I try to have at least 1 neutral piece in each category type.
If you don't like neutrals, don't feel like you have to use many of them. Build your list based on your personal style.
3. Is this a fast fashion item?
Fast fashion will quickly go out of style. It's a good idea to try to stick with classic vs. trendy pieces.
My capsule wardrobe mostly consists of style staples because they go with everything and I can get years of use out of them. Examples of style staples are a black dress, a pair of jeans, black trousers for work, a plain white t-shirt etc.
4. Can this piece be worn in many situations?
For example, can it be worn both in and out of the office? If your item can be worn in multiple situations, you'll get more use out of it.
5. Is this a repeat of something else in your capsule wardrobe?
Too many repeats just takes up valuable space for other essential pieces.
For example, try not to have 5 pairs of similar jeans.
First – cut this list down to 2 or 3.
Second – mix up the cuts, colors, textures and patterns. For example, if you like jeans, in addition to your standard blue jeans, you could have capri jeans or maybe black jeans. Likewise – you want to have both long-sleeve and short-sleeve pieces.
Ultimately, you want to give yourself more combination options.
6. Is this a high quality piece?
Selecting high quality pieces with good fabric extends the life of your capsule wardrobe.
You don't want material that pills and rips easily, loses its shape after the first few washes, has loose stitching etc. Low quality goods means you'll have to replace these much sooner.
7. Is this a low maintenance piece?
Most of my dry-clean only pieces are my favorites, but they also cost more time and money to clean. Be cautious with your selection of dry-clean only clothing. Also try to select wrinkle-free pieces.
4) Make a shopping list
Now that you have selected some pieces from your closet, identify what's missing, consider trading clothes at a swap party or go shopping.
Take your time finding high quality items. Prioritize items that you need sooner.
Related Article: How to Shop for Clothing on a Tight Budget
5) Organize and use your capsule wardrobe
I organize my capsule wardrobe by category. All the tops are together. All the bottoms are together. Within the categories, I sort it by color. For the off-season clothes, I store them in a box.
Every night, I quickly put aside what I'll be wearing in the morning. It's already much faster now that I have a capsule wardrobe in place, but knowing what I'm going to wear saves me that extra bit of time just in case my daughter needs a diaper change etc.
Another method I've heard others use is to take a photo of every outfit combination you have and store them on your phone.
I know this seems like a lot of work, but it can be very handy if you're forgetful (about what combinations are available) or need a little inspiration (because you tend to wear the same pieces every week).
6) If you want to change your capsule wardrobe…
Another thing to remember about a capsule wardrobe is that it can be changed, if needed.
But before you decide to swap out an item in your capsule wardrobe or add something new, consider these questions:
Does the new item match at least three other pieces in your wardrobe?
How many different outfits can you create with this piece, in addition to your other items?
Does the piece fit with your style?
Is the fabric and fit comfortable and flattering?
Will the piece fit within your lifestyle?
The answers to these questions will help you decide if making the purchase is the best idea.
And these questions will help you give more thought into each clothing purchase, ensuring you aren't overspending or blowing up your budget every time you go clothing shopping.
Final Thoughts on Capsule Wardrobe Planning
Take your time to curate the perfect capsule wardrobe. You might have several rounds of capsule wardrobe planning and that's fine. Don't be afraid to try one capsule wardrobe and then change it up. You want to find what works best for you.
If you want to read more about capsule wardrobe planning, check out The Curated Closet. It's all about pinpointing your personal style and finding the clothes to match it.
Here are other great tips on minimalism that you might be interested in.
Resources for Saving Money
Looking for other ideas to save money?
Here are my favorite money saving resources:
Rakuten (formerly Ebates) is great because you can get up to 40% back for shopping online at over 2500 stores – many of which you would normally shop at like Amazon, eBay, Macy's, Kohl's etc. It's FREE to sign up.
For U.S. residents, Rakuten will give you a welcome bonus of $10 after making your first online purchase of $25 or more. For Canadians, it's a $5 welcome bonus for signing up. You can read more about how to use Rakuten here!
If you spend hours meal planning every week only to stress out some days and eat out, you might be interested in the $5 meal plan. For $5/month, they send you a weekly meal plan where every meal will cost approximately $2/person! They save you time and money so that you can focus on doing things you enjoy like hanging with your kid!
They offer a 14 day FREE trial (approximately 40 recipes) – regular or gluten-free – that you can cancel at any time with no questions asked.
This membership has 2 great benefits: free 2 day shipping and free access to movies, TV shows, music and books. You no longer have to worry about last minute items. You can cancel your other movie, music and book subscription services. You can also get 20% off diapers and baby food when you have more than 5 subscriptions.
Get the Amazon 30 day FREE trial here. You can cancel at anytime. No questions asked.
Related capsule wardrobe planner articles
Enjoyed this post?
It would be great if you could share it and follow me on Pinterest and Facebook.
Other tips about capsule wardrobes?