What are the best inexpensive baby shower ideas?
Throwing a baby shower is the best way to celebrate a pregnant friend. But if you're not careful, hosting a baby shower can quickly get expensive.
From purchasing decorations to creating baby shower games, there is a ton of planning that goes into throwing a great baby shower.
That means you're going to need plenty of inexpensive baby shower ideas to help you stay on budget as you plan! These simple ideas will help you throw an amazing baby shower for your friend without breaking the bank.
This post may contain affiliate links, meaning if you make a purchase, I may earn a small commission, at no cost to you. Please read the disclosure for more information.
Budget Baby Shower Invitation Ideas
Sending invitations is the only way to let everyone on your guest list know the details of your baby shower. That makes them an essential element to planning a great baby shower.
While some baby shower invitations can be expensive, there's no need to spend a ton of money for great baby shower invites.
These cheap baby shower invitation ideas are a simple way to save money while planning a baby shower.
Digital invitations: Instead of spending money on paper invitations and postage, consider inviting everyone to the event with digital invitations. You can use a free invitation platform, like Evite, to invite all your guests through email.
Fill-in the blank invitations: Preprinted invitations are another budget-friendly way to invite everyone on your guest list. Purchase a pack of premade invitations, then fill in the details by hand to save money on invitations for your baby shower.
Custom digital designs: While purchasing customized invitations for your friend's baby shower is a great way to set the tone for the event, there's no need to go overbudget for custom invitations. Purchase a customized template from an online source, like Etsy, then print and mail the invitations yourself.
Make your own invitations: If you're crafty, why not take the time to make your own invitations? You can use scrapbooking supplies to create custom invitations for a fraction of the price of store-bought custom invites.
Cheap Baby Shower Venues
The venue for your baby shower can often be the most expensive part of hosting. That means picking the right venue for your shower is essential. These cheap baby shower venues are a great way to save money while still throwing an amazing shower for the mom-to-be.
Your home: Hosting a baby shower in your home is the best way to save money on a venue because it's totally free. Set up seating around the perimeter of your largest room or set up tables in your backyard if the weather is nice.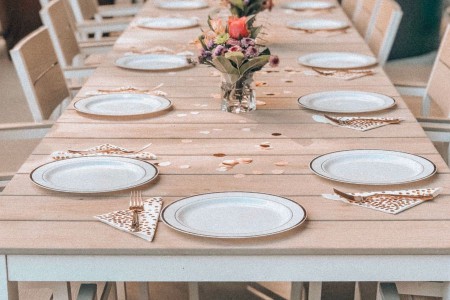 Church: Members of a church can often rent out a room in the church for free or a small fee, making it another great place to host a baby shower. Contact your church to find out the charge for renting a room to host your next event.
Local clubhouse: Many local club chapters, like the Elks Lodge or American Legion, rent out their facilities for small events. And members often get a discount on rental fees. If you're a member of a local club, ask about their rental policies to see if you can get a good deal on room rental for your event.
Local park: If you'll be hosting your baby shower during a warm month, consider setting up your party at your local park. Contact city hall to see if there's a fee to rent out the gazebo or picnic area for the day to host your baby shower.
YMCA: Many local YMCAs have rooms available for the public to rent at affordable prices. You can contact your local location to learn more about their rental policies.
Community center: Take advantage of your local community center by renting the space for your baby shower. Contact the center to see how much they charge to rent a room for a small gathering to see if this venue idea fits within your budget.
Inexpensive Baby Shower Decoration Ideas
Decorations for your baby shower are the best way to set the tone for the event. But decorating a baby shower can get very expensive if you don't take measures to stay on budget. These inexpensive baby shower decoration ideas can help you decorate for your baby shower without breaking the bank.
1) Find items you have at home.
When deciding on decorations for your baby shower, think about décor you have at home that can be used throughout your baby shower decorations. Vases, baskets, candles, wall décor, and floral pieces are all great options that can be used when decorating for your baby shower.
2) Decorate with baby items.
If you have kids at home, you probably have tons of baby items that would be perfect for use as baby shower decorations. Consider adding baby items into your baby shower décor to save money and create a cute theme for your shower. You can use items you already have at home or incorporate new items into the décor that can also serve as baby gifts for the mom to be. These baby items are great for adding into your baby shower decorations:
Baby onesies
Receiving blankets
Baby toys
Baby books
Diaper cakes
Blocks
3) Shop at the dollar store.
The dollar store is a great place to get decorations for your baby shower. Most dollar stores have common party decorations, like streamers, balloons, tablecloths, ribbon, banners, and tissue paper in a variety of colors.
Dollar Tree is one of my favorite dollar stores because everything there is actually $1 or less (not $2, $3 or $4 like other "Dollar" stores). They have FREE shipping to store. You can select what you want online to save you time!
4) Make your own decorations.
Creating your own decorations is a great way to save money when decorating a baby shower. Making your own floral centerpieces, setting up your own table displays, and decorating your food table are all simple ways to save money on your décor.
4) Use printable decorations.
Instead of heading to the party store to purchase decorations for your baby shower, consider looking for printable decorations to save a ton of money. You can purchase printable baby shower decorations from websites like Etsy.
Simply download the files and print them at home. Then, all you have to do is cut out the decorations and hang them up to add some personalized style to your baby shower without spending a ton of money. Most printable party sets come with a few common elements, like:
Party banner
Napkin rings
Paper centerpieces
Cupcake toppers
Cupcake wrappers
Water bottle labels
5) Decorate with balloons.
Balloons are one of the most inexpensive party decorations you can purchase. But they really make an impact when used correctly.
Blowing up balloons and hanging them in creative ways, like making balloon centerpieces for the tables or hanging a balloon arch, can add visual interest to your party décor without the need to spend a ton of money on decorations.
6) Use paper party décor.
Another great way to decorate for a party on a budget is with paper party décor. Honeycombs, paper lanterns, and paper flowers can create a glamorous look without the need to overspend. Simply unfold the paper décor and hang them to add height and depth to any baby shower party display.
Baby Shower Food Ideas On A Budget
Food is an important part of hosting a party, so getting the menu right for your baby shower is very important. But that doesn't mean you need to spend a ton of money feeding your guests. These inexpensive baby shower food ideas will impress your party guests without forcing you to go over budget.
1) Cupcakes
Cake is a must when hosting a baby shower, but purchasing a full cake can get expensive. Cupcakes are a budget-friendly alternative that are also a popular baby shower dessert. Decorate your cupcakes with cute toppers and fun cupcake wrappers to make them look amazing without overspending on your party dessert.
2) Bite-size appetizers
Avoid serving a big meal to your guests to help cut down on your food budget. Bite-size appetizers are simple for guests to eat while also being budget-friendly. Look for foods that can be placed on a toothpick or eaten with your hands to make it easy for your guests to eat while they mingle.
3) Snacks
Providing snacks for your guests is another easy way to save on food for your baby shower. Vegetable trays, bags of popcorn, cracker spreads, and dips are all cheap food ideas that are perfect for a baby shower.
4) Mini desserts
Sweet treats are a must at a baby shower. To make your dessert menu stretch further, consider offering small desserts instead of full-size treats. Cut your larger desserts into bite-size pieces or serve mini desserts, like petite fours, to provide your guests with a big selection of desserts on a small budget.
5) Potluck
To save you time and money, consider hosting a potluck dinner instead of making all the food yourself. Ask each guest to bring a dish to the party to provide everyone with a delicious meal without the need to purchase and make all the food on your own.
Cheap Baby Shower Games
Keeping your guests entertained at your baby shower is a must. And that means you're going to need some fun baby shower games ready during your party.
There's no need to spend extra money on baby shower games when you can play cheap baby shower games instead. These inexpensive (or free) baby shower games are the perfect way to stay on budget during your party.
Don't Say Baby
For this fun game, all you need are clothespins. When your guests arrive, clip five clothespins on them. If someone hears someone else say the word "baby," they get to take one clothespin from that person. The person with the most clothespins at the end of the shower wins a prize.
We're Having a Baby
All you need to play this baby shower game is balloons!
Split your guests up into groups and give each person a balloon. When you say go, someone from the team must blow up the balloon and put it under her shirt. Then, the next person in line will do the same. The process continues until all the players have blown up their balloons and put them under their shirt. After that, the players must pop all their balloons to win the game.
Message in a Diaper
Grab some disposable diapers and pens for this cute game. Pass out a diaper and pen to each of your guests and ask them to write a message for the mom to be on the front of the diaper. Whether they write something silly or inspirational is up to them. The mom to be will get a kick out of reading all the messages from her guests each time she changes baby's diaper.
Birthday Pool
Print out a calendar page of the month baby is due, then let everyone guess which day the baby will be born. Pass the calendar around the room and let everyone write their name on the date they guess. When the baby's born, congratulate the winner with a small prize in the mail.
Baby Name Scramble
Type up a game sheet with the names of each parent at the top of the page, along with several blank lines underneath each name. Pass the papers out to each guest with some pens or pencils. Set a timer and tell all the guests to write down as many names as they can come up with using the letters from the parents' names. The guest with the most name ideas wins.
Mom Trivia
See how much your baby shower guests know about the mom-to-be with a fun game of mom trivia. Ask the guest of honor to answer a few questions before she arrives. Pass out a piece of blank paper to each of your guests, along with some pens or pencils. Then, ask those same questions at the shower. The person that has the most correct answers at the end of the game wins a prize.
Tips for Saving Money on a Baby Shower
Knowing simple ways to save money when hosting a baby shower is another great way to ensure you stay on budget for your party. These easy tips will help you save even more on the next baby shower you host.
1) Pick the right time for the baby shower party.
Hosting a party during meal time is one of the best ways to ensure you spend more on your party. That's because your guests will come to your baby shower expecting a big meal to be served.
Instead, consider hosting your baby shower in the morning, midafternoon, or late evening to cut down your food budget in half. When you host a party during off times, you can serve a small menu without worrying about your guests going hungry.
2) Keep the guest list small.
Hosting a large party will ensure your budget is high, so it's important to keep the guest list small to help you stay on budget. In addition to thinking about the amount of food you'll need to serve all your guests, adding more names to your guest list will also force you to invest in a larger venue – and that means you'll need more decorations to fill the space.
You can see that an increase in the number of people on your guest list can easily add more money to your budget! Make sure to invite all the people that are important to the mom to be, then cut down on unnecessary guests to help stay on budget.
3) Skip the alcohol.
Making adult drinks for your party can quickly get expensive – not to mention unfair for the mom to be. Instead, serve punch or lemonade to save some money on drinks and be a little more thoughtful of the guest of honor.
4) Buy in bulk.
Shopping for food and party supplies at warehouse stores like Sam's Club or Costco is another simple way to save money on items for your baby shower. You can get great deals on necessary items, like appetizers and desserts, when you purchase them in bulk for your baby shower.
5) Recruit a co-host.
There's no reason you have to throw the whole baby shower all on your own!
Recruit a co-host to help share the responsibility and expenses of throwing the shower. You can cut down on the work you need to do and slash your spending by asking another friend or family to help host the party.
6) Don't turn away help.
Even if you don't have an official co-host, don't turn away an offer to help out! There will always be kind friends and family who offer a helping hand when it comes to planning the shower. Let them help by bringing something to the party or coming over to set up before the party starts to save you some time and money.
Final Thoughts
You don't need to blow the budget in order to throw an amazing and memorable baby shower.
To save even more money if you're hosting the baby shower for a new mom, here are practical baby shower gifts any new mom would love.
If you're interested in more baby shower gift ideas, check out these articles on baby essentials in the first 3 months. and baby clothes needed for the first year. I also have a post on 6 month baby must haves that might be of interest.
Another savings tip for if you're purchasing online is to use Rakuten (formerly Ebates). Rakuten gives you cash back to purchase on sites like Amazon. It's FREE to sign up.
For U.S. residents, Rakuten will give you a welcome bonus of $10 after making your first online purchase of $25 or more.
For Canadians, it's a $5 welcome bonus for signing up.
You can read more about how to use Rakuten here!
Related Practical Baby Shower Gift Idea Articles:
Enjoyed this post?
It would be great if you could share it and follow me on Pinterest or Facebook.
Thoughts on other cheap baby shower ideas?