Affiliate Programs for New Bloggers
Looking to join affiliate programs for bloggers?
Perhaps you've been blogging for 1 week, 1 month or 3 months.
While you enjoy blogging, you want to recoup your blog costs or explore making money from your blog.
Among all the opportunities to make money from a blog, affiliate marketing is often the first and easiest to implement.
Since you're probably already suggesting products or services that you love, you might as well get paid for it.
Once you put the links in place, it becomes a relatively passive source of income.
So you're interested in joining affiliate marketing programs for beginners, but you don't know where to start?
Or maybe you've been rejected from an affiliate program and you don't know why?
When my website was still being built and only had a handful of articles, I started applying to affiliate programs.
I had no idea what I was doing.
At the off chance any of these early posts became popular, I wanted to have affiliate links in place.
It hadn't occurred to me that some companies might take a deep dive audit into the site.
That I would get rejected because they only accept websites that have certain elements or traffic.
Below I'll discuss:
How to get started in affiliate marketing step by step
What is the minimum you need before applying to affiliate programs? How do you get approved for affiliate programs and networks?
How do you locate and apply for affiliate programs
What affiliate programs (for bloggers in any niche) I got approved for and rejected from
Let's get started!
Related Blogging Strategies:
This post may contain affiliate links, meaning if you make a purchase, I may earn a small commission, at no cost to you. Please read the disclosure for more information.
What is affiliate marketing?
It's when you get paid for promoting a product or service you love to your readers.
How it works:
You are given a special link with your referral code (so the company can track the referral).
You talk about that product and insert your affiliate link to it.
When a reader clicks on the link and makes a purchase, you get the commission.
You can promote your links on your blog articles, emails, and social media pages.
Each affiliate program will have its unique restrictions for promotional methods.
This often involves a requirement that you disclose that you're getting a commission on the product.
There are 2 types of affiliate programs:
Internal affiliate marketing programs (single brand)
Third party affiliate networks (that give you access to hundreds or thousands of brands)
Internal affiliate programs are when companies have an in-house affiliate program.
Third party affiliate networks are organizations that take care of other companies' affiliate efforts.
Some brands have both internal affiliate programs as well as work with third party affiliate networks.
For example, Rakuten.com (or Rakuten.ca if you're Canadian) has an internal referral program. They're also listed with the affiliate network iGain.
A good practice is to compare the commission rates to see which offering is higher. Often the internal referral program has a higher rate.
If the company's brand name is less known, it might be worthwhile to use the affiliate network's links.
For example, Amazon is an affliate network that is a household name. Amazon sells Ergobaby (which has its own internal affiliate program) products.
A reader might be more inclined to purchase from Amazon, especially if they have Amazon Prime and have free shipping and other incentives, than from Ergobaby directly.
What is the minimum you need before applying to affiliate programs?
How do you get approved for affiliate programs and networks?
For some affiliate programs, you don't even need to write a blog post to market your affiliate links. You can just post on social media for example. It's important to read the program's restrictions to understand your promotional options.
In general, if you have a blog, you're more likely to be accepted into the program. If you don't have a blog, here are the strategies and steps I used to start a blog and make money from it.
It's particularly important that you're self-hosted.
If you're self-hosted, you own your domain and its content. When you're free hosted, your domain can be deleted! All of your hard work creating and building the blog could be gone and there's nothing you can do about it.
My blog is self-hosted with Siteground. You can get Siteground hosting for as low as $3.95/month.
Here's why and how I set up my blog with Siteground.
Here are other important tips on how to get approved for affiliate programs and networks:
1) You want to have a basic blog structure including a Home, About, Contact and Privacy Policy page. Ideally, you want to have at least a few well-written articles.
2) It's important that you have a Disclosure page as companies want to see that you're disclosing your commission for affiliate links.
3) While it's not necessarily a requirement, it'll make your site look more professional (and not give the affiliate manager a reason to question your application) if you have a professional looking email (not gmail, but one set up through your web host).
Alternatively, you can set up your gmail to both receive and send emails using the professional email address through your web host. That way you can still use the gmail interface. It's the best of both worlds!
How do you find and apply for affiliate programs?
To find affiliate program sites, you can often google the company name and "affiliate" to see what's available.
When you apply to the affiliate program or network, you're often joining as an "affiliate", "referrer" or "publisher" so you want to watch for those terms when you're navigating the sites.
For affiliate networks, once you apply and get approved, you get access to the individual brands. You often have to apply to each brand separately.
When you get approved with the brand, then you have access to the affiliate text and banner links. Deep linking to a specific product (as opposed to the home page), which just makes the reader experience better, is often an option.
Now that you have some information about affiliate marketing, here are the best affiliate programs for beginners – the affiliate networks and programs I was approved for within the first 2 months of launching my blog.
I've included the affiliate networks for bloggers in any niche or blogging specific affiliate programs.
I strongly recommend that you only apply to the brands that are relevant to your content. Brands that you believe in that will benefit your readers because they will solve a problem.
Affiliate networks I was approved for
Each of the below affiliate networks has access to hundreds or thousands of well recognized brands. I've included a few notable brands. Some even have a dedicated account manager, which I'll also indicate below.
Brands include NBA.com Shop, NHL.com Shop, Freshbooks, and Viator. There are many blog merchants including Grammarly, and MonsterInsights.
Brands include DollarTree, Groupon, Target, Kohl's, Nordstrom Rack, Trip Advisor, Macy's.
There's a dedicated account manager that will even try to get a better commission rate for you if there's a more competitive rate at another network. Brands include Booking.com, Norton AntiVirus, T-Mobile, and Ipsos.
There's also a dedicated account manager that helps you set up your account and answer questions. Brands include many survey companies (e.g. Inbox Dollars, E-Poll, Vindale Research, Global Test Market, PineCone Research).
Brands include Etsy, Trustedhousesitters, Agoda.
Brands include Sephora, Macy's, Air Canada Vacations.
Brands include Apple, Home Depot, Expedia.
This is another great network for new bloggers because it's a household name that people trust and Amazon has a product for almost every need. I've written more on Amazon Associates as they have terms that new bloggers should be aware of.
The Amazon commission is generally low, but the bounty program (including e.g. Amazon Prime) is higher.
The program involves a 24 hour cookie; once a customer clicks on a link, if he/she makes a purchase on the site (even if it's not necessarily the product you linked to) within 24 hours, you'll get the commission.
One thing I would caution is that you need to make 3 sales within the first 180 days of opening your account. Otherwise it will be suspended.
If you or your audience are located outside of the U.S., you might want to apply for the additional non-U.S. countries (e.g. Canada, U.K.), activate the OneLink feature, and link the accounts together. This ensures that when these non-U.S. visitors click on your affiliate link, they will be redirected to their local Amazon site.
Just ensure that you're posting Amazon.com links (and not Amazon.ca links for example) as it won't otherwise automatically redirect. There are 7 countries that can be synced with OneLink (United Kingdom, Canada, Italy, France, Spain, Germany, and Japan).
Affiliate programs for bloggers I was approved for
Here are blogging resources I use and love! They not only provide excellent products, but also have generous commission structures for affiliates.
This is the web hosting company I use with my blog. When I was doing initial research, Bluehost was often recommended.
Then I came across articles of bloggers who had difficulties with Bluehost from speed load time to customer service.
I've personally noticed that some bloggers who I regularly follow and recommend Bluehost – sometimes their page doesn't load! That's when I started noticing Siteground. I have had no complaints thus far! You can sign up for as little as $3.95/month here.
I'm a huge proponent of Divi. You have access to 80+ themes or you can create your own site which is what I did.
For non-tech saavy people like me, Divi is the way to go. Divi is a drag and drop builder so you don't need to know how to code, but you can still build the site the way you want it to look.
If I had questions, I contacted their customer service team or watched their training videos which walk you through every option. Their theme is mobile responsive.
I recently got their lifetime membership!
I love Stencil! This platform makes it so easy and fast to create images for your website. There are over 2 mil royalty-free photos, 680 templates, 1 mil icons, tonnes of preloaded sizes or easily create your own.
I've heard some bloggers use free images from Pixabay and upload them onto the free version of Canva or PicMonkey. I initially tried this, but then switched to Stencil because everything is all in one place. You save so much time. If you're resizing images for multiple social media accounts, this is especially easy to do as they have preloaded sizes.
There's so much involved with setting up and learning about blogging. It's great having image creation easy! If you want to try Stencil out, there's a FREE package where you can create and save 10 images per month, but you have access to limited photos and icons.
Pinteresting Strategies and Affiliate Marketing For Bloggers: Everything You're Missing
I'm an affiliate for both of Carly Campbell's courses because they're informative and comprehensive.
In her affiliate marketing course, she uses her previous articles as case studies. It includes videos so you can see exactly how she's applied her affiliate marketing strategy.
I loved the Affiliate Marketing course so much, I ended up purchasing her other course Pinteresting Strategies, which is beloved by many reputable bloggers! It did not disappoint. It has an extensive overview of Pinterest – all the strategies you need to optimize your Pinterest account and boost your traffic.
This course is actually how I got my first affiliate sale.
Conquer Your Business Analytics: A course for Creatives and Non-Techies
This course is jam packed with useful information about how to set up Google Analytics and Google Search Console – 2 FREE must have tools for your site – the right way and optimize it. If you're not tech savvy like me, this course will help. She includes detailed, step-by-step directions and images.
If you want to get a taste, check out her FREE course Google Analytics 101 – for Non-Techies!
This is one of the costliest blogging courses I've taken. It honestly took me a few months of thinking about it before I felt comfortable enrolling. Now that I've taken it, I don't know why I waited so long. It's been 500% worth it!
As a new blogger, SEO is one of the most important things you should focus on.
I used to think as a beginner blogger that SEO was just installing Yoast and making sure you get all the "green lights". There's so much more strategy and execution to SEO.
Now SEO accounts for 80% of my traffic. I've realized that SEO traffic converts way better than Pinterest traffic. It's still important to focus on Pinterest because you can get easy wins. If you take the time to build your SEO, you can get a lot of organic traffic and make money passively.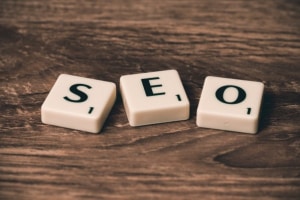 There are a lot of SEO courses out there. Stupid Simple SEO is one of the most comprehensive SEO courses available, discussing both on-page and off-page SEO in actionable detail.
Here are my favorite parts about the course:
It shows you how to set up your site structure so that it's optimized for SEO.
You learn how to do keyword research efficiently through the Ahrefs. You don't even have to subscribe to the full membership. Mike Pearson, the course creator, teaches you how to get hundreds of applicable, rankable keywords using just the 7-day Ahrefs trial for $7.
He walks you through the behind the scenes of one of his niche sites from day 1. That's an interesting case study you don't want to miss!
His course Facebook Group is filled with veteran bloggers. I've learned a lot just by browsing the threads.
He updates the course regularly! It's the course that keeps on giving! Every few months it seems, he adds a new module with valuable information.
Even if you don't take the course, I highly recommend checking out his FREE SEO training. This training has a lot of unique nuggets you can apply right away to boost the SEO on your site.
Affiliate marketing programs I was rejected from
Impact Radius is an affiliate network with brands like Uber, UberEATS, and Target. I initially applied and was rejected. When I asked them for the reason, they said it was due to low traffic. I've since reapplied and got approved.
Through CJ Affiliates, I was rejected on Hotels.com and HelloFresh. When I asked them for a reason, I never heard back. I haven't reapplied since.
Bonus – Ad network
If you're looking for an ad network, I was recently approved with Monumetric. Here are the things I've liked about Monumetric:
Support network: Within the first week I applied, I was assigned a rep that walked me through the approval process. When I was approved, they installed the ads for me. One thing I recommend – before they install the ads, let them know exactly what you want in terms of ad placement (e.g. no video ads, no header ads, the maximum number of sidebar ads etc.) and the concerns you have. You don't want to waste their time building ad blocks they'll have to remove or adjust shortly after installing them.
Here are some challenges with Monumetric:
Pageview criteria: You need at least 10,000 pageviews/month. With , there's no minimum pageview criteria. I've heard many bloggers interested in Mediavine, which I heard is similar to Monumetric, but you need at least 25,000 sessions/month (~30,0000 pageviews). If you're in the 10,000-30,000 pageviews range, you should definitely check out Monumetric.
Setup fee: If you have less than 80,000 pageviews/month, you'll have to pay a $99 setup fee, which they can deduct from your ad earnings. Depending on your number of monthly pageviews and content, you could pay this off within 1-2 months. It took me around 1.5 months to pay it off.
60 day payment delay: At the end of each month, you have to wait 2 additional months before you get paid. For example, if you earned ad income in September, you have to wait until December to get paid.
Overall, I have had a positive experience with Monumetric. If you're interested in joining, you can sign up with Monumetric here. It took me around 4 weeks to get approval. They have to internally review your blog and then send it to their advertisers to review.
Final Thoughts on Affiliate Marketing for Beginners
As you can see in my experience, the majority of the above affiliate programs are fitting for new bloggers.
Don't forget that if you get rejected, you can often reapply. I know it can be discouraging to receive a rejection to something you've put dozens of hours into.
The rejection just means you need to make a few changes and increase promotions. In the end, you'll get there. It'll just take some time.
Good luck with your applications!
Related Blogging Ideas:
Enjoyed this post?
It would be great if you could share it and follow me on Pinterest or Facebook.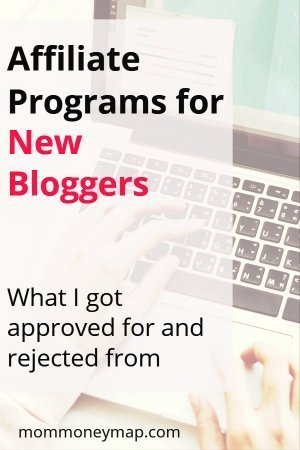 Other affiliate programs for new bloggers you recommend?