Work from Home Jobs that are Legitimate and Flexible
What are Work from Home Jobs that pay well?
Work from home jobs seem like an impossible dream.
It might surprise you that there are many 100% legitimate ways to achieve that dream and have:
Flexible hours: You can often choose the amount of hours you work so you can work part-time.
$100,000+/year: Even though you're working part-time, you don't need to be earning part-time income. These work from home jobs are in demand so you can earn a good pay check.
No commute: The beauty of work from home jobs is that most of them can be done online so you only need your computer and Internet. You don't have to deal with traffic.
Increased savings: When you're working from home, you save on gas, eating out, clothing, and possibly daycare. You save time from commuting.
In many of these jobs, you're your own boss so you don't have to request vacation time or report to anyone. You choose your hours and work as little or as often as you'd like. You can work part time, full time or contract.
Many of these jobs can be done online so you only need a laptop and an internet connection. Some of these jobs require little to no experience or startup fee.
If you're looking for work from home jobs because you need the flexibility with little ones at home or you're just sick of your 9-5 office environment, here are 13 work from home jobs hiring now!
This is a long list! I've tried to cover a wide range of options so that you can select the ones that make sense for you.
This post may contain affiliate links, meaning if you make a purchase, I may earn a small commission, at no cost to you. Please read the disclosure for more information.
13 Work From Home Jobs
1. Become a Virtual Assistant
There seems to be this misunderstanding about what a Virtual Assistant does.
A Virtual Assistant offers a service to a client for money. It could be:
Managing email
Scheduling appointments
Bookkeeping
Graphic design
Social media management
Research
Content creation
It could be an online or offline task. Here are over 275 services you could offer as a Virtual Assistant.
People are hiring Virtual Assistants because they can pay for just the amount of hours worked – saving them time and money.
With more online entrepreneurs, this field is increasingly in demand.
If you're interested in this field, Gina is an expert and talks about everything you need to know to become a virtual assistant here.
Here's my interview with Gina where she shares how she made up to $100/hour as a Virtual Assistant.
Related Notes:
2. Become a Transcriber
If you have a good handle on the English language, transcribing is a great gig. Transcription is the process of writing down what someone is saying.
You can work from home. Take breaks whenever you want. Work as little or as much as you'd like. It's entirely up to you.
Legal transcriptionists make on average $65,000. If you own a transcription business and subcontract, some make over $100,000.
There is high demand as everything is moving digitally. Many businesses have audio or video content to be transcribed. Even court reporters use transcriptionists for their audio recordings because it's more efficient!
If you think that transcription might be losing its demand due to voice recognition technology, keep in mind that this technology can't punctuate or understand context. Its capabilities are limited.
If you want transcription done properly, you need a transcriber.
While there are companies like TranscribeMe that don't require transcription certification or prior experience, the pay is minimal.
If you want to make good money, Transcribe Anywhere offers courses that will teach you how to transcribe properly. It'll take around 2-4 months. If you'd like to get a taste for the Transcribe Anywhere course, you can try their FREE general transcription class.
Here's a Transcribe Anywhere review which includes interviews with 2 graduates from the program.
There's a graduate that took the general transcription course and a graduate that took the legal transcription course so you can learn what they thought was valuable and how long it took them to make their money back from the course.
3. Become a Proofreader
Along the same lines, you can work from home as a proofreader. Proofreading is taking content other people have written and editing it to make it perfect.
If you're the type of person who is always catching typos and cringe when you see things misspelled, proofreading might be for you. It takes a certain sharp eye for proofreading.
Due to the popularity of self-publishing, proofreading is an up and coming profession. An interesting thing about proofreading is that you can even do it from your tablet!
Like transcription, there is a course that will teach you how to proofread well, but more importantly how to become a profitable proofreading business. At Proofread Anywhere, you'll learn exactly how to find clients, structure your work days, and run a successful proofreading business.
It has a FREE mini intro course that you can try out.
Here's my interview with successful proofreader Caitlin Pyle who made over $40,000 proofreading part-time early in her career.
Here's a review of Caitlin's Proofread Anywhere course including an interview with one of her students!
4. Become a Scopist
Scoping is probably the work at home job most people haven't heard of!
Scoping is editing legal transcripts for court reporters. It's different from proofreading in that scopers often work on the initial draft whereas proofreaders work on the final draft. This profession has been around for over 30 years.
Court reporters hire scopists to help them save time so they can take on more jobs (and make more money) or just have more time for themselves.
As scoping is a niche field, you need formal training. The Internet Scoping School offers a FREE mini intro course to learn about scoping.
You can decide from there if you want to commit to the full course and pursue a career in scoping. What makes them unique is that they are the only scoping course that includes lifetime access to support and all content updates in their tuition fee.
Check out my interview with successful scopist Robin Newberger for more information about scoping.
5. Start a Blog
There are millions of blogs online and many fail or take years to become successful.
There are also many blogs that have earned a full time income within 1 year! These bloggers are people who have no prior experience blogging. They don't have technical expertise, which is something I was concerned about because I'm not tech-savvy!
And they do it in their spare time. This is not their full-time job even though they're earning a full-time income from it.
They're writing about everyday topics from their own perspective. Subjects like making and saving money, parenthood, food, fashion, and photography.
Blogging has a low startup fee to start. You can get Siteground web hosting for a WordPress site for as low as $3.95/month.
In terms of the blog monetization potential, this is something I'm still figuring out.
I just started my blog in October 2018. I love writing and learning new things so blogging is a good fit regardless of if I earn money from it. It would be great to cover my blogging costs. I'm excited to learn how I can best monetize the site.
If you're interested in learning how to start a blog, I've detailed my strategies and steps for starting a blog here.
6. Become a Referrer or Affiliate for a Program
Is there a product or service you recommend often because it's just that worthwhile and you want the people in your life to benefit from it too?
Consider becoming a referrer or affiliate for it. Since you're already raving about it, you might as well get paid for it.
There are many companies that have structured affiliate programs from large familiar household names like Amazon Associates to affiliate marketing networks like Shareasale that partner with over 4000 merchants including NBAStore.com.
A program I like is Rakuten (formerly Ebates.com) (if you're a U.S. resident) or Rakuten.ca (if you're Canadian). Rakuten is a site that companies can advertise on. These companies pay Rakuten a commission for sending customers to them.
Each time you refer a friend to Rakuten, you get $5. If you refer more than 10 people, you get additional bonuses!
It's a win win because your friend that you referred also makes money. For U.S. residents, Rakuten will give them a welcome bonus of $10 after making their first online purchase of $25 or more! For Canadian residents, Rakuten will give them a welcome bonus of $5.
Rakuten is affiliated with over 2500 affiliated companies (in the U.S.) and 750 companies (in Canada) including Amazon, eBay, Expedia, and Groupon.
Your friend is probably already shopping with them on a regular basis or will certainly be over the holiday season. Sending them to Rakuten is just ensuring they don't leave money on the table.
I've heard some people make a killing in affiliate marketing. They promote products on email, their social media pages and website. You'll notice on my website, this is something I'm trying.
One thing I would caution on is don't sign up for every affiliate program available. I only signed up for affiliate programs I've done my research on and genuinely recommend and trust.
Also, some companies have strict rules on where they allow affiliate promotion e.g. some don't allow for promotion on social media pages. Make sure you read through the program rules to ensure you're abiding by them.
Related Affiliate Program articles:
7. Buy and Sell items
I've done this on a small scale for the last year.
Finding things in my house and selling them (no startup fee!).
Or buying things from yard sales, revitalizing them if necessary, and selling them through sites like Craigslist, Kijiji, Facebook Marketplace, eBay and VarageSale.
Related: Here's an article with a list of apps to sell your items online.
It's a great way to get rid of clutter in the house and make a hundred dollars or more each month.
If you want to earn a full-time income from this, Melissa and Rob at Flea Market Flipper are experts in this field. In 2015, they made just over $42,000 only working 5-15 hours/week.
In 2016, they made $133,000 flipping items working 20-30 hours per week.
Here are some of the items they've flipped:
Old radio: bought for $15, sold for $200
Base jumping vest: bought for $10, sold for $200
Double stroller: bought for $90, sold for $380
Carousel horse: bought for $175, sold for $1299
Patio set: bought for $50, sold for $2100
Whether you're just starting out or ready to up your selling game, they have a few courses where they teach you their secrets.
They have their signature courses at Flipper University. If you want to hone specific skills, they have courses on furniture flipping, freight and general shipping.
Check out their website to learn more about their courses and how to become a successful flipper.
Related: Yard sale tips: How to host a successful garage sale
8. Sell T-Shirt Designs
If you love to doodle and design, you could sell t-shirt designs online.
Selling your designs sounds like it requires graphic design skills and Photoshop expertise. It certainly helps if you have that skill. You don't have to be a graphic designer to create designs that sell on Redbubble.
Redbubble is an online marketplace selling designs on various products.
How it works is:
Designers start a shop and upload their designs (which is all free for you to do)
Customers find a design on a product they want (the design can go on a shirt, pillow case, phone case etc.)
Redbubble prints and ships it
Designers get paid a 10-20% royalty
Redbubble handles all of the customer service (including complaints and returns) and marketing (including remarketing).
If you have an existing portfolio on your other social media accounts or website, you can indicate these on your shop page and build your customer base.
You can learn more about Redbubble here.
9. Become an English Tutor
If you love hanging out with kids and have a passion for education, Qkids offers an opportunity to make $16-20 USD/hour (I'm in Canada so that's up to $26/hour!) as an English Tutor.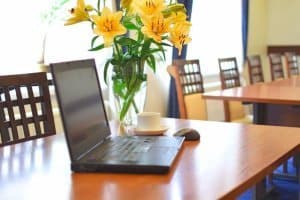 Qkids is an online education platform connecting people with 4-12 year old students in China. Other great benefits to the job include:
No minimum time commitment per week (lots of flexibility with working hours so you can work for Qkids while doing other jobs)
Interactive platform with games and characters
Preset curriculum so there's no lesson planning required
If you already know that Qkids is right for you and you have an excellent understanding of the opportunity, you can apply to work as a Qkids teacher here.
If you're looking for more information about Qkids, check out my detailed analysis of Qkids including an interview with 3 Qkids teachers who talk about their typical day, biggest challenge, and top tips for being successful in the Qkids interview process.
10. Become a Virtual Bookkeeper
If you like:
Working with numbers, spreadsheets and details
Communicating with clients BUT
Don't like the regular deadlines and strict schedules that usually accompany bookkeeping, accounting and finance jobs…
Look into virtual bookkeeping!
Check out my interview with Ben Robinson where he discloses how he made $60+/hour as a virtual bookkeeper.
Ben is actually teaching people how to be bookkeepers from home now. You can check out Ben's FREE training to see if it's the right fit for you.
Here are 2 reviews from graduates from his Bookkeeper Launch signature course.
11. Open an Etsy Shop
If you think that Etsy is not a platform you can use to generate a full-time income, you would be wrong. Many people have had legitimate success working from home on Etsy.
Here's one mom who makes $1500-3000/week on Etsy. She was able to do what many people dream of – work from home only a few days a week and spend the rest of her time doing whatever she wants to do.
I've also interviewed a mom who makes passive income selling printables on Etsy. Printables are digital downloads. When a customer places an order, Etsy automatically sends them the product.
Once she's created the printable and uploaded it, there's very little active work. What a great work from home job!
If you're looking for ideas about what to sell on Etsy:
✅ This
FREE guide
has a list of the best-selling products by month on Etsy and how to use seasonal trends to make sales.
12. Become an SEO Writer
SEO is a buzzword that is not losing steam. If you've never heard of SEO, it stands for search engine optimization. It's what companies need to rank high in Google and other search engines.
As businesses need SEO content, SEO writing is in demand! Naturally, the salary potential is huge. There are SEO writers earning $5000-10,000/month consistently and some earning upwards of $20,000+/month by hiring other writers.
I interviewed successful SEO writer Yuwanda Black on this website. In this article, she shares what a typical day is, how to find work as an SEO writer and other tips and advice for SEO writing here.
13. Be a Pet Sitter
If you love pets, dog walking or pet sitting is a very flexible work from home job.
While you can advertise your services on Facebook or Kijiji, Rover has been specifically designed to connect pet sitters with pet owners. It's in 34,000+ cities. Millions of pet sitting jobs have been booked through this platform.
The advantage of going with Rover is not only reaching clients, but having 24/7 vet assistance and the "Rover Guarantee". This is insurance coverage for certain injuries or damages during the visit.
At Rover, you can set your own schedule, pricing and pet preferences to work for you.
Here's an interview with a person who's a Rover Pet Sitter who shares your tips on how to get started.
You can sign up to become a Rover Sitter here.
Final Thoughts On The Best Work From Home Jobs
There are many types of work from home jobs that can fit your lifestyle and situation. Many have little to no startup fees!
While many of these jobs can earn a full-time income alone, doing multiple jobs, especially initially, will increase earnings faster and take the burden off of any one job.
On a related note, if you're a stay at home mom, here are the best stay at home jobs for moms.
Recap Of The Work from Home Jobs That Are Flexible
Become a Virtual Assistant
Become a Transcriber
Become a Proofreader
Become a Scopist
Start a Blog
Become a Referrer or Affiliate for a Program
Buy and Sell items
Sell T-Shirt Designs
Become an English Tutor
Become a Virtual Bookkeeper
Open an Etsy Shop
Become an SEO Writer
Be a Pet Sitter
Other ways to make money quickly
If you only want to earn a little bit of side cash quickly and easily each day, here's a list of legitimate survey companies with user-friendly sites that I've personally tried and liked:
The more companies you join, the more surveys you'll qualify for taking. If you like taking surveys and being able to voice your opinion and know that it'll make a difference with brands and products, taking surveys might be right up your alley.
Related Legitimate Work from Home Job Articles:
Enjoyed this post?
It would be great if you could share it and follow me on Pinterest or Facebook.
Any other work at home jobs you recommend?